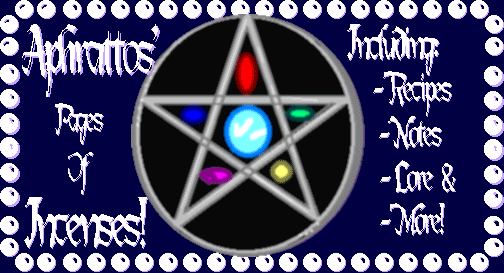 ---
You are visitor number
Thanks for your visit!
---
APHRATTOS'S HERB PAGE: AN INTRODUCTION
This page will link you to a variety of pages all somehow related to the magickal usage of herbs. I intend to keep it as organized as possible so it may take a while before a specific topic of interest becomes available. Mainly you will find an assortment of recipes but I also mean to include facts both obscure and commonly known in relation to herbs and herb crafting. If you have anything you would like to see added to a page, please feel free to mail it to me. I've established all of my pages for one reason and that being the sharing of occult, Pagan and related knowledge and information; much of which may be unique to the Hellonian tradition.
Comments, information and suggestions are always welcome.
I've established these pages with the general concept in mind the reader has a basic concept of magick in her/his own pathe and tradition as a result I have opted not to be too detailed regarding my instructions. At least that's the plan. In example, rather than tell you how to "charge or otherwise "empower" an item, I have assumed you already know how under your own methods or magickal system and thereby it would simply be redundant to do so. However, if you are new to the craft and do not know how to do something that is obviously omitted, please feel free to E-Mail me with questions and I will try to answer them to the best of my capabillities. When necessary, I will included information regarding the best time to preform the magick and/or make the product. I do so strictly because I am a stickler for such things. I know many people do not follow moon phases, times, and other cycles of nature that I do, so don't feel that these suggestions are carved in stone. They are just carved in MY stone, you should feel free to follow whatever makes you comfortable in your specific practices.
Also, please remember, I have avoided inclusion of recipes that contain illegal or toxic substances and will reject any such submissions as well. This does not mean that all recipes may not in come way be caustic. Please exercise cautions which will be placed with any such recipes. You accept full responsibility for the products that you make from the recipes here written. They are offered purely as "for your information" or "FYI" materials or curios. I do not accept responsiblity for them nor for anyone's direct misuse or abuse of these recipes. A disclaimer appears throughout my pages especially where there could be reason for concern. If you choose to ignore these warnings you also choose to accept full responsibility in doing so.
I hope that you enjoy these pages. Check them periodicly for updates!